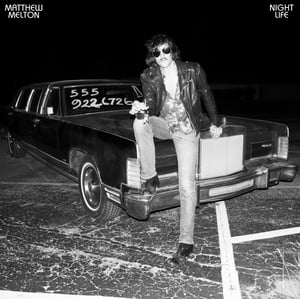 $

12.00
Matthew Melton "Night Life" LP
ON MIDNIGHT BLACK VINYL
OUT NOW
Matthew Melton has emerged from his secret hideout to unveil his darkest and most focused solo effort to date: "Night Life". This album marks a new direction in Melton's sound with the noticeable inclusion of synthesizers performed by his wife Doris Melton who was classically trained on piano and organ in Bosnia. The new sound, which Melton has loosely referred to as "Night Rock" evokes the ominous desolation of wandering empty streets in the desperate heat of the night. The icy synths ringing of Ex-Yugoslovian spirit are complemented by Melton's signature punk attitude and dark introspective lyrics making this nothing less than a concept album about literal and metaphoric darkness.